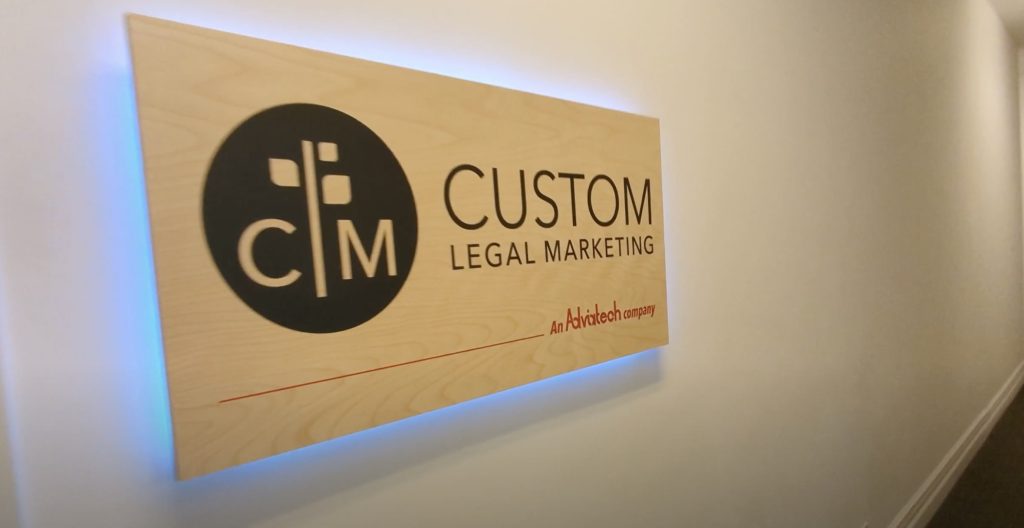 Custom Legal Marketing Opens New Studio in San Francisco
San Francisco, CA (Law Firm Newswire) April 27, 2022 – The new CLM Studio has opened in Custom Legal Marketing's office in San Francisco. To accommodate the buildout, the company acquired a vacant space on the third floor of the Kearny Street building where CLM is headquartered.
In 2021, Custom Legal Marketing, an Adviatech Company, raised funds and secured financing to expand the company's offerings. The new studio took a little over 6 months to complete and is equipped with mounted and portable studio lighting, fixed and mobile audio capture equipment, and dual Ultra-HD cameras to capture multiple angles simultaneously.
In the studio, there is also a sound-proof podcasting station with mics by Shure and the company will
be able to host local or remote guests with professional audio quality.
Studio editing is powered by all professional equipment and software from Apple, Blackmagic Design, and Adobe with over 100 terabytes of infinitely scalable storage to handle the heavy workload of video and audio production.
Custom Legal Marketing is developing a series of programs that will help lawyers better understand online marketing. The company will also be hosting regular live cast events where attorneys and marketing teams can get answers from the experts at CLM.
Along with significant security upgrades, CLM upgraded their WiFi infrastructure to include a building-wide 1GB connection with redundant wireless backups to ensure full connectivity during their live cast events.
Custom Legal Marketing co-founder, Jason Bland, who has been leading the expansion, said "We made this serious investment because we want the production value to be just as high as the value of the information that we will be sharing with our audience. Our viewers' and clients' time is far too valuable to waste it with subpar content and we feel like we owe them our very best if they're giving us their attention."
Jessylyn Los Banos was promoted to Media Designer in March and will lead the audio/video projects in the CLM Studio.
Learn more at http://www.customlegalmarketing.com/.
Custom Legal Marketing
An Adviatech company
1111 Kearny St.
San Francisco, CA 94133
Phone: 1.415.449.1985
Toll Free: 1.800.789.6451
Custom Legal Marketing's Blog
The Google Ads Performance Max Campaign: A powerful lead generation tool most law firms aren't using.
Our New Video and Podcasting Studio is Complete!
Custom Legal Marketing Wins 2022 Muse Award
Should Bots Write Blogs for Your Law Firm? We Tried an AI Writer.
Your Law Firm's Web Traffic Has Dropped… Now What?
What to Look For When Hiring For A Law Firm Marketing Position, and Other Must-Reads
How To Create Great Web Content For Your Law Firm, and Other Must-Reads
The post Custom Legal Marketing Opens New Studio in San Francisco first appeared on Law Firm Newswire.